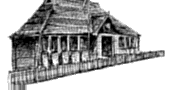 The Beginnings of Cricket in Outwood ........
The first known reference to cricket in Outwood was in 1835, a time when the famous cricketer William Lambert (1779-1851) lived in the village. He first appeared for Surrey against England in 1801, was the first player to score a century in both innings of a match at Lord's in 1817 and played in most of the big matches at Lord's until his sudden exit from the game for allegedly selling a match. It is believed that Outwood Cricket Club was formed in 1887 and the present ground created in the mid 1890s. The current pavilion was built at a cost of £198 in 1897, the year of Queen Victoria's Golden Jubilee. Owned by Theodore H Lloyd, the ground and large parts of Outwood were bequeathed to the National Trust in 1955.
From 1955 to 1960 the village cricketers of Outwood hosted many famous players in annual matches against the then President Douglas Ashpool's XI. May, Laker, Lock, Bedser, Barrington, Stewart and Tribe were just some of the international players to grace Outwood's ground. Internationals from a very different part of the world were entertained in 1979 when Outwood played against Argentina as part of their essential preparations for the Prudential World Cup.
Cricket in Outwood today .... We offer a warm welcome to players of all standards and all ages from the village and from further afield. If you are a good cricketer we can offer you the challenge of top quality Saturday 1
st
XI village league cricket and the National Village Championship. If you fancy slightly less of a challenge there is the competitive camaraderie of Saturday 2
nd
XI league cricket or traditional friendly village cricket on Sundays. Don't be concerned if you haven't played for a while! We would be delighted to welcome Umpires and Scorers who are looking for opportunities to wear the white coat or sharpen their pencil. If watching the game is your preference you are equally welcome as a non-playing member - come and enjoy a drink at the bar while you watch. Our Renowned Annual Dinner ……… Club Members always look forward to the last week in November, the normal time for our Annual Dinner. The tradition of attracting top drawer speakers and household names from the world of professional cricket goes back a long way. The late Douglas Ashpool and the late Frank Nicklin, both past Presidents of the Club, and others have been able to attract to the Outwood Cricket Club Annual Dinner names such as Jim Laker, Godfrey Evans, Tony Greig, Colin Milburn, Basil D'Oliveira, Fred Trueman, Mickey Stewart, John Edrich, Angus Fraser, Bill Frindall, Henry Blofield .... and many others. The tradition has continued with one of the real characters of professional cricket, Phil 'The Cat' Tufnell, (Middlesex CCC and England) our guest in 2002; England selector Geoff Miller (England, MCC, Derbyshire CCC, Essex CCC, Cheshire CCC and Natal) in 2003; Robin Smith (Hampshire & England) in 2004; Derek Underwood MBE (Kent & England) in 2005. All have provided terrific entertainment for Members and their guests.
Benefits of Membership - Why not join us or pay us a visit?
♦ A fixture list from April until October against clubs in Surrey, Kent and Sussex
♦ Watch cricket while enjoying a drink from the bar
♦ Receive an automatic invitation to our renowned Annual Dinner and our Golf Day (see the
Village Diary
for dates!)
♦ Receive
r@bbits
, our e-mail newsletter, produced weekly during the playing season and less frequently during the Winter, bringing you results, match reports, League tables and news from the world of Outwood cricket.
To find out more give us a call or send an e-mail to info@outwoodcricketclub.co.uk
Visit the club website at www.outwoodcricketclub.co.uk for all contact details.