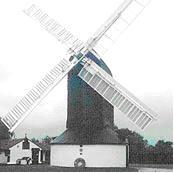 Grade I listed Outwood Mill is the oldest working windmill in Britain. Built in 1665, it is a post mill with patent shutters and when the wind is adequate still grinds corn, nearly 350 years after it first did so. Its builders are known to have sat on the partially completed roof in order to watch the Great Fire of London glowing in the distance, some 25 miles away.
Outwood is a 'turret' type post mill. The body, or buck, of a post mill contains the machinery and the whole thing rotates around a central post, hence its name. Turret-type post mills have a roundhouse built at the base. Here it is of brick, 6.7m (22') in diameter and 2.75m (9') high.
The mill is 11.89m (39') tall. The buck is clad in tarred horizontal boarding and topped by an ogee-shaped roof. There is a tail ladder and tailpole and four anticlockwise single shuttered spring sails controlled by elliptical springs. The internal machinery includes a 2.44m (8') diameter brake wheel with 108 wooden cogs, a tail wheel with cast iron spokes and oak rim with wooden cogs, and two pairs of overdrift stones.
The mill was built for Thomas Budgen in 1665. It was owned by the Jupp family from 1806 to 1962, when G. & R. Thomas acquired it. Two replacement sails were fitted in 1931 by the millwright Thomas B. Hunt of Soham for £80. Another pair of sails was purchased in 1933 from Forncett End, Norfolk.
Milling ceased at Outward in 1949 when a breast beam cracked and the windshaft dropped causing the sails to touch the roundhouse roof. Temporary repairs were made by millwrights E. Hole & Son of Burgess Hill, followed by extensive repairs completed in 1952. One of the sail stocks was found to be defective in 1955 and a new pair of spring sails was fitted. Another stock broke in 1956. E. Hole & Son fitted a new stock and sail and restored the mill to working order in 1958.
New sails were given to it, in modern times, by the Society for the Protection of Ancient Buildings./span>
At some point during the late eighteenth/early nineteenth centuries a dark, octagonally-shaped smock mill was built next to the post mill. This was built as a rival by the brother of the owner of the older post mill, and it was intended that the new mill would supersede the old, but when trade declined the old windmill triumphed and the new smock mill closed instead. After a period of dereliction, the smock mill finally collapsed in the early 1960s.
Bibliography
Windmills in Surrey and Greater London by A.C. Smith (Stevenage Museum Publications, 1976)